In the News
Ali Ahmadov: OSCE Minsk Group co-chairs should follow example of Moldovan Ombudsman
Today.Az
July 09, 2013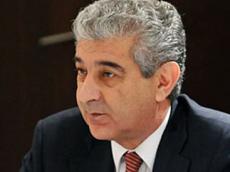 Deputy Chairman-Executive Secretary of the New Azerbaijan Party (YAP), MP Ali Ahmadov said that the OSCE Minsk Group co-chairs should follow the example of the Moldovan Ombudsman, AzerTac state news agency reported.

Ahmadov hailed Moldovan Ombudsman Aurelia Grigoriu`s recent Khojaly genocide remarks at the Armenian parliament as "a brave act".

'This was calling things by their own names,' Ahmadov said. 'First of all Grigoriu's courageous statement is her moral victory. This is the triumph of courage and justice. Her fearless speech was a fatal blow on the habits of some representatives of international organizations and politicians, who make pro-Azerbaijani statements in Baku, and pro-Armenian remarks in Yerevan. This must be stop in order to resolve the conflict.'

Touching upon the OSCE Minsk Group`s activities, he said that it is impossible to find a fair solution to the Armenian-Azerbaijan conflict without condemning the Armenians for the occupation of the Azerbaijani lands.

"So the OSCE Minsk Group should think about it. Unfortunately the Armenians labeled Mrs. Grigoriu`s remarks as a traditional blackmail," he said.

While reporting to the parliament of Armenia, the Moldovan lawyer stated that Armenia's aggression against Azerbaijan, which has continued for more than 25 years, is accompanied by massive violations of basic human rights principles and generally accepted norms of international law.

Grigoriu referred to facts substantiating her remarks and mentioned the United Nations Security Council's four resolutions on Armenian withdrawal from the Azerbaijani territory, and the UN General Assembly resolution on the sovereignty and territorial integrity of Azerbaijan.

According to her, Armenia's aggression against Azerbaijan became the biggest obstacle on the way of development of the South Caucasus region and integration into Europe.

Grigoriu cited all the well-known facts on the Nagorno-Karabakh conflict, however, after the truthful speech she was not allowed to leave Armenia with the Moldovan delegation, and was kept in isolation, moreover, her life was threatened.

Moldova's Embassy in Azerbaijan said it completely shares what Ombudsman Grigoriu said with respect to the Khojaly genocide.


Comments
Add a Comment
Your comment will show once it has been approved.