In the News
Azerbaijan Closely Working with US to Fight Against Terrorism
Today.Az
October 30, 2012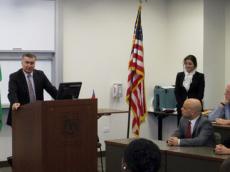 An event dedicated to the Azerbaijan-US bilateral relations has been held at the Loyola University as part of the Azerbaijani delegation`s visit to State of Illinois.

Azerbaijan`s ambassador to U.S. Elin Suleymanov briefed the event participants on current state of the cooperation between the two countries and noted that bilateral strategic relations were in the interests of the both states.

Mr. Suleymanov said that Azerbaijan was closely working with the US to fight against terrorism.
On cooperation in energy sphere, he provided information about the energy projects implementing in the region.

The ambassador gave the example from the Baku-Tbilisi-Ceyhan pipeline, which was supported constantly by the Clinton and Bush administration. He stressed importance of the US Administration`s political support for successful implementation of projects.

Representatives of Azerbaijan`s Embassy, as part of their visit, met the senior officials of American Jewish Committee Chicago regional office (AJC).

They exchanged views on the current state in the region, further development and possible results of the processes in the Middle East, as well as Azerbaijan`s cooperation with US and Israel, the traditional friendly relations between the Azerbaijani and Jewish peoples.
The Embassy representatives also met the members of the Azerbaijani and Turkish community to discuss the organization of the series events on popularization of Azerbaijan.
Comments
Add a Comment
Your comment will show once it has been approved.